TALKING POINTS:
Apple's strong earning sent its own shares to a record highs, stabilized FANG but did little for wider 'risk trends'

As expected, the Fed held interest rates unchanged and its stronger view of the economy did little to revive the Dollar

Top event risk over the next 24 hours is a BoE rate decision that is seen as a high probability hike.
APPLE'S SHARES RALLY BUT THE ENTHUSIASM DOESN'T SPREAD MUCH FURTHER
Apple's robust earnings Tuesday evening gave markets a reason for hope. If the world's largest publically-traded corporation (closing in on $1 trillion market cap) is still beating forecasts, perhaps it can recharge complacency – single-handedly spurring genuine risk appetite is unrealistic. AAPL shares did open the past session with an impressive 4.6 percent gap higher (the largest since August 2, 2017) and its near 6 percent advanced on the day was the strongest climb in 18 months with the added benefit of a record high. There is little doubt that this earnings season highlight offered a strong base for its own ticker. Yet, the growing reserve in broader sentiment didn't seem to find much relief from the headlines. The FAANG (FANG plus Apple) steadied and put in for a modest advance but didn't recovery from the past week's stumble. The broader-based and blue-chip benchmarks of the S&P 500 and Dow closed lower on the day. Further, global indices, emerging market assets and carry trade were all posting modest losses on the day. If there is to be a recovery in speculative appetite – whether systemic of opportunistic – it will have to come from some other source.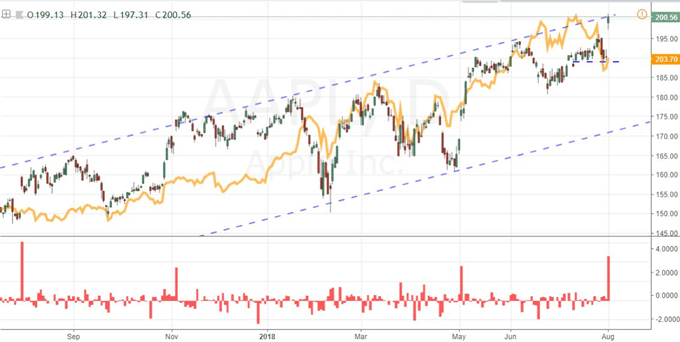 As we await the spark that can re-ignite the market's enthusiasm, familiar troubles are returning to threaten the little stability we have managed to find of late. Trade wars returned to the top headlines this past session first through rumors and then through official announcement. Senior US officials announced that President Trump had instructed US Trade Representative to consider an increase to the rate in the pending $200 billion tariff case from 10 percent to 25 percent. The period for public commentary (opportunity for effected groups to lobby for change) was extended to early September, but seems intent and capacity to pursue this massive increase in import taxes. The immediate response to this news was stoic. We are already seeing the slow implementation of the previous $50 billion duty and it still isn't clear to global investors that this path will lead to a global reduction in growth – in an environment where more market participants are questioning this commitment to such expensive exposure. With the expected immediate warning of retaliation from China, the stage has been set. Will markets respond to this as an economic and financial threat or will it instead act as an accelerant for another catalyst? Traders should be mindful of all 'risk' assets; but pay special attention to USDCNH, the local equity indices (such as the Shanghai Composite) and foreign-based assets used to gain exposure (like FXI).